While Louisville got a favorable location in the NCAA Tournament, they certainly didn't get an easy draw. The Midwest Region includes 8 Top 25 teams, 3 Hall of Fame Coaches (if not already in, shoe-ins to do so), 7 Conference Champions, and a Pac 12 Champion in Oregon who is a 12 seed. A freakin' 12 seed.
Let's take a look at a few things to watch and how I see the match-ups shaking out for Louisville.
Darkhorse of Region:
If there is anyone that needs to have a chip on their shoulder, it's the Oregon Ducks. Oregon won the Pac-12 Championship-a conference that we refer to as a 'power conference'- and got a 12 seed. The team they beat in the Pac-12 Championship game? They got a 6 seed.
The Ducks (I refuse to call them 'fighting ducks') will need to use the disrespect card to fuel them in the NCAA Tournament. Although Oregon got a 12 seed, they don't have to travel too far from home. Oregon will play their first and possibly second round game(s) in San Jose, California. First round opponent Oklahoma State & Marcus Smart will await Oregon, if they get past that; they'll most likely face St. Louis. Two tough opponents but two opponents they are certainly capable of defeating.
PG E.J. Singler will be the key for Oregon. He's scored in double figures 3 out of the last 5 games, and is also shooting the 3pt ball pretty well (shooting 41% his last 5 games). If Singler can continue his hot play, don't count the Ducks out from making a Sweet Sixteen run.

Player Louisville Needs to Show Up in NCAA Tournament: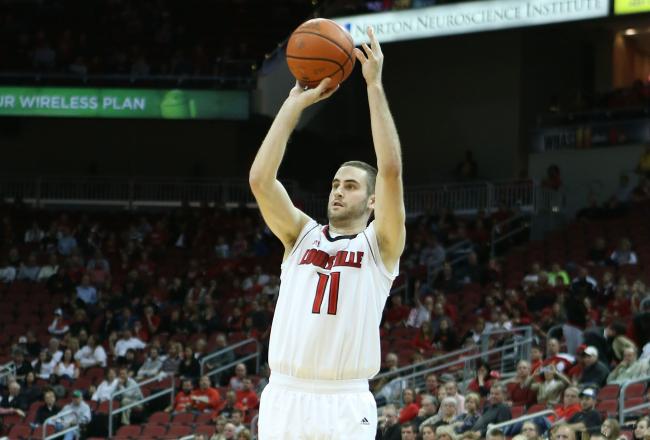 Luke Hancock. I never thought I would write his name in that context. Constantly a glutton for punishment early in the season from both Louisville critics and fans (myself included), Luke has turned into a key a contributor. Hancock has been nothing short of amazing this past month. Louisville can still win without Hancock, actually they can probably still win it all without him, but his presence makes the road clearer.
Hancock has shot 54% from 3pt land in his last ten games, and was a key factor (once again) in Louisville's comeback win in the Big East Championship. He has also scored in double digits 6 of his last 10 games. Keep in mind, this all from the bench.
The biggest question with Louisville coming into the season was 'Who can make the 3pt shot?' Hancock has answered that pretty soundly. He's taken the load off of others at times and added another scoring option; not to mention picking up the slack where Wanye Blackshear couldn't.
Predictions/Match-ups for Louisville's Midwest Regional Games:
Game: Louisville VS Liberty (Why the Hell Not?)
Location: Lexington, KY
Result: Louisville 94 Liberty 54
Why? Louisville is much better at basketball than Liberty. Also, Louisville has three wins over teams 245 or worse in KenPom Rankings; they beat two of those by 40 or more. Liberty has a KenPom ranking of 251. It's freakin' science y'all!
Round of 32:
Game: Louisville VS Missouri
Location: Lexington, KY
Result: Louisville 72 Missouri 55
Why? The last time these two met, Louisville won by 24 points. It's hard to take much out of a game nearly four months ago- so I won't. The big reason I have the Cards-and why I have them so comfortably- is Missouri PG Phil Pressey. Phil Pressey likes to give the ball away and Louisville is pretty good at taking said ball away (despite what Woody Paige may think). Pressey has had 3 or more turnovers in 6 of his last 10 games, as a team Missouri ranks near the bottom of the SEC with 13 turnovers per game. Louisville takes advantage, wins going away.
Round of 16:
Game: Louisville VS St. Louis
Location: Indianapolis, IN
Result: Louisville 66 St. Louis 56
Why? This certainly won't be a pretty match-up for Louisville. St. Louis is going to do everything in their power to slow down this game, but in the end- they will fail. Louisville's speed & athleticism will get the best of the St. Louis in the waning moments of this game. Louisville has been in this position before, St. Louis hasn't. Also, you really think Pitino is going to lose his first Sweet Sixteen game to St. Louis? A freaking Billiken? Think again. The guy is 10-0 in the Sweet 16and still has no clue what a Billiken is…neither do I.
Elite 8:
Game: Louisville VS Duke
Location: Indianapolis, IN
Result: Louisville 68 Duke 61
Why? Revenge. Louisville will show exactly why Gorgui Dieng is so important to Louisville. If you remember correctly, this is a rematch of the Battle 4 Atlantis Championship. A game in which Duke won by 2. A game in which Louisville's Starting Center Gorgui Dieng was out. With Gorgui Dieng back in the line-up, this turns into an absolute slugfest between Plumlee/Dieng. Dieng, the 2013 Big East Defensive Player of the Year, gets Plumlee frustrated offensively early & often. Duke can't recover as Louisville's Guards take advantage of a worn down Seth Curry late. Louisville prevails in a classic.
Louisville faces New Mexico in the Final Four. Indiana faces Georgetown in the other National Semi-Final.
(Posted orginally on my blog)
-Chris (@_ChrisHatfield)